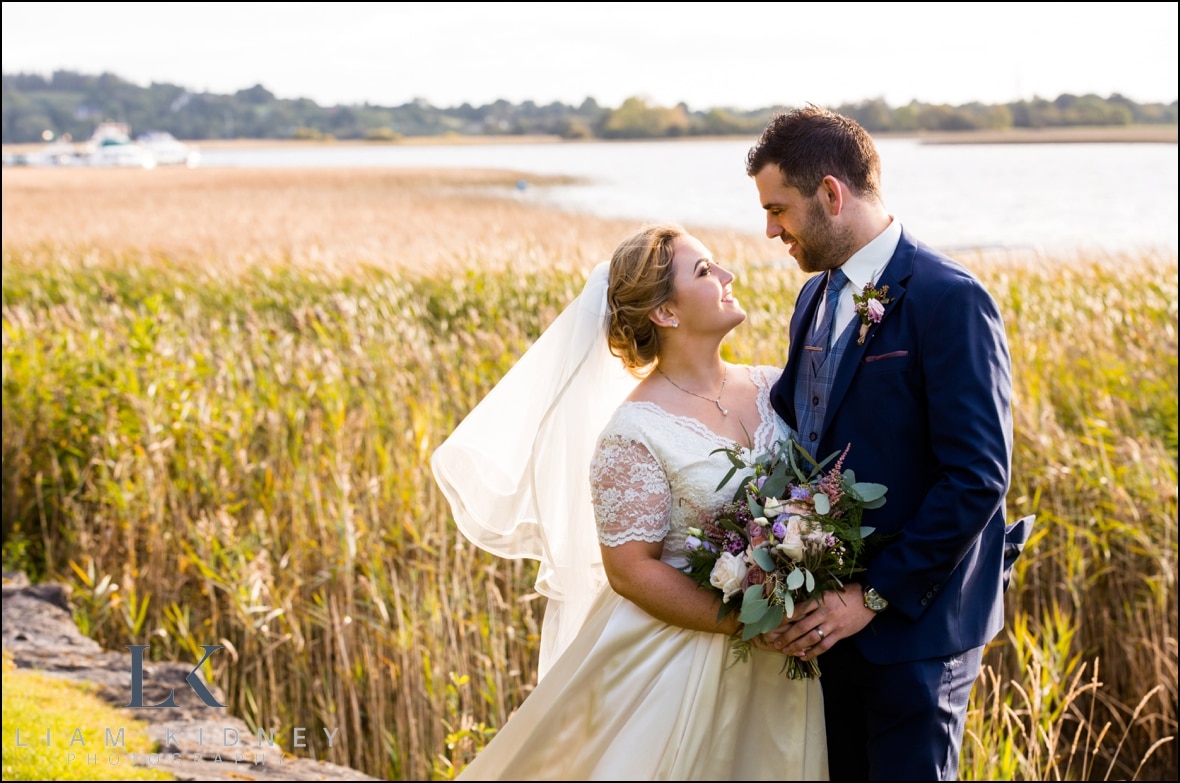 While Hollywood might still paint a picture of castles and bagpipes, Irish weddings are truly coming into their own as couples are more and more looking for natural surroundings and modern luxuries to host their wedding reception. Of course, a wedding at a castle is grand and amazing, but a wedding at Wineport Lodge bubbles with personality. 
Liam
 Kidney Photography | Wineport Lodge
I recently covered the wedding of Christine and Ruairí, who executed the most spectacular of Irish weddings in Athlone at Wineport Lodge. I had the good fortune of getting to know Christine through her work as a skin care specialist. Wedding vendor relationships are of paramount importance, so the opportunity to work with a valued vendor is a true gift. 
Christine had taken great care with every detail of the big day, right down to hand-tied wedding bouquet of pastel colours and Jimmy Choo wedding heels. Capturing the moments of her getting ready was especially poignant as her mother had made her wedding gown and veil. These quiet moments before the wedding ceremony are some of my favourites, and the portraits created with mother and daughter mark a space in time that I hope will be cherished for years to come. 
Christine
& Ruairí's St. Mary's Ceremony
Christine and Ruairí's ceremony took place at St Mary's in Athlone. The gorgeous arched doorway was the ideal location for a last-minute moment captured as the father-of-the-bride paused for a moment with his little girl. They were married by Father Declan, a wonderful man, and priest; his words at wedding ceremonies are always very heartfelt. 
Inside St. Mary's, the space radiated with natural light which is every photographer's dream. The stone exterior and spire of this civil parish church in County Westmeath made for a classic wedding backdrop for family and wedding party portraits. 
Ruairí, a rugby player for the local Buccaneers Rugby team, cut a dapper figure in a modern blue suit against the vibrant greenery of Wineport Lodge. The area breathes romance with its spectacular panoramic lakeside views and walking paths, perfect for capturing candid wedding party portraits 
Wineport Lodge Reception Photography
We were blessed with the weather, the day ending with a beautiful sunset where I was able to create some of my favourite portraits of Christine and Ruairí using reflections and the lake. I find that couples are most able to enjoy their wedding day when they don't have to be pulled far from the party for photos, and the Wineport has an abundance of magnificent backdrops. You can get so many different looks for your wedding photos without leaving the property. 
On-site, there is a  wooden jetty stretching back from the water, creating a wonderful space for capturing romantic portraits or hosting a lakeside drinks reception before moving inside for a fantastic 5-course meal made with the finest locally sourced produce. On this night friends and family danced the night away with the always popular Simon Casey and his band bringing everyone to the dance floor. 
Wineport
 Lodge Wedding Photography
Wineport Lodge serves Westmeath as an exclusive, luxury wedding venue with the most attentive of staff. The lodge itself is a boutique hotel that makes for an exceptional Ireland destination wedding location for family and friends as each bespoke room or suite offers panoramic lake views. 
Many amenities are available, including world-class massage services to relax those muscles after an early morning walk around the property. In the evening, open fires and cosy nooks and crannies invite you to share a glass of wine with a loved one, dine with friends, or curl up with a good book.   
Wineport Lodge takes only a select number of weddings per year, so I encourage you to book early in your engagement. Weddings at the Wineport Lodge truly embody their commitment to warmth, passion, and luxury. 
If you're seeking a wedding photographer in Athlone, I'd love to speak to you about your wedding. My style is relaxed, natural, journalistic, and inspired by love and laughter. 
I can be reached at +353 (0) 87 22 7331 or contact me here.