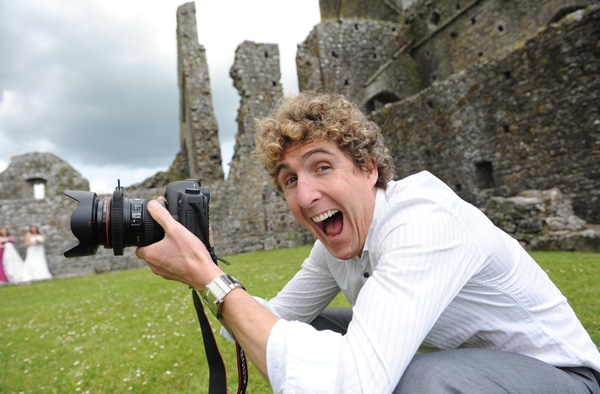 I have worked with Gavin from Dreamcatcher Productions several times in the last decade.  I instantly warmed to his warm personality and modern filming style.
Why and when did you setup your business?  How long are you in the industry?
I graduated from film school in 2001 and began working for Top Gear the TV programme in the UK. I then worked with Royal Caribbean the crusie line company filming adverts for their shore excursions around the world. I moved back to Lahinch, Co. Clare so I could surf the incredible waves Ireland has to offer. Wedding film production was a simple choice… Work hard and creatively 2 days a week and edit on my own time schedule mid week.
What products can you supply?
Wedding Film's, Promotional Videos for Companies, Documentaries'.
What advice would you have for a bride?
Invest in your photographer and videographer…. When the flowers are withered we're the people who produce lifelong memories.
How can you help the couple prepare for their big day?  What type things do you suggest?
Get  everything sorted early, prepare list and cross off the jobs you've achieved and rewrite the jobs you didn't achieve.
Any wedding tips?
Look for funky alternative locations to use for your photo session… Don't try and use locations that are miles away from your church or reception.
Enjoy your guests company and party till the wee hours!!
What type of music do you play in your vidoes?
I like using alternative Indi music in the wedding films I produce… There's world of music out there beyond the chart hits. Listening to alternative music also kind of guarantees that your' wedding film sound track doesn't get overplayed on commercial radio airtime which can lead to you growing tired of it.
           
What are your most popular packages?
Platinum + additional camera is by far my most popular choice. It's also such a pleasure to film and edit!!! I love this package.
Do you have any special offers on at the moment?
Yes… Book me and I'll upgrade you to free full HD wedding video.
Any funny stories you heard about weddings you were involved with(no names necessary)
"meet me at the bar!!!!
You can see a sample of his work here:http://vimeo.com/37132824

Contact Person: Gavin Gallagher
Website: http://www.dreamcatcherproductions.ie/
Facebook Page: https://www.facebook.com/pages/Dreamcatcher-Productions/78887147637
Email:  gavin@dreamcatcherproductions.ie
Phone: 085 121 7888
Location: Lahinch, Co. Clare, offering a Nationwide service
Thank you for visiting this post from 2012
As a professional photographer since 2007 my style has continuously evolved and changed with the  times.
Feel free to check out this link to my favourite photos from 2019.
Here is a link to one of my favourite weddings from 2019 that will reflect my modern style that mixes documentary photography with the more classical style.