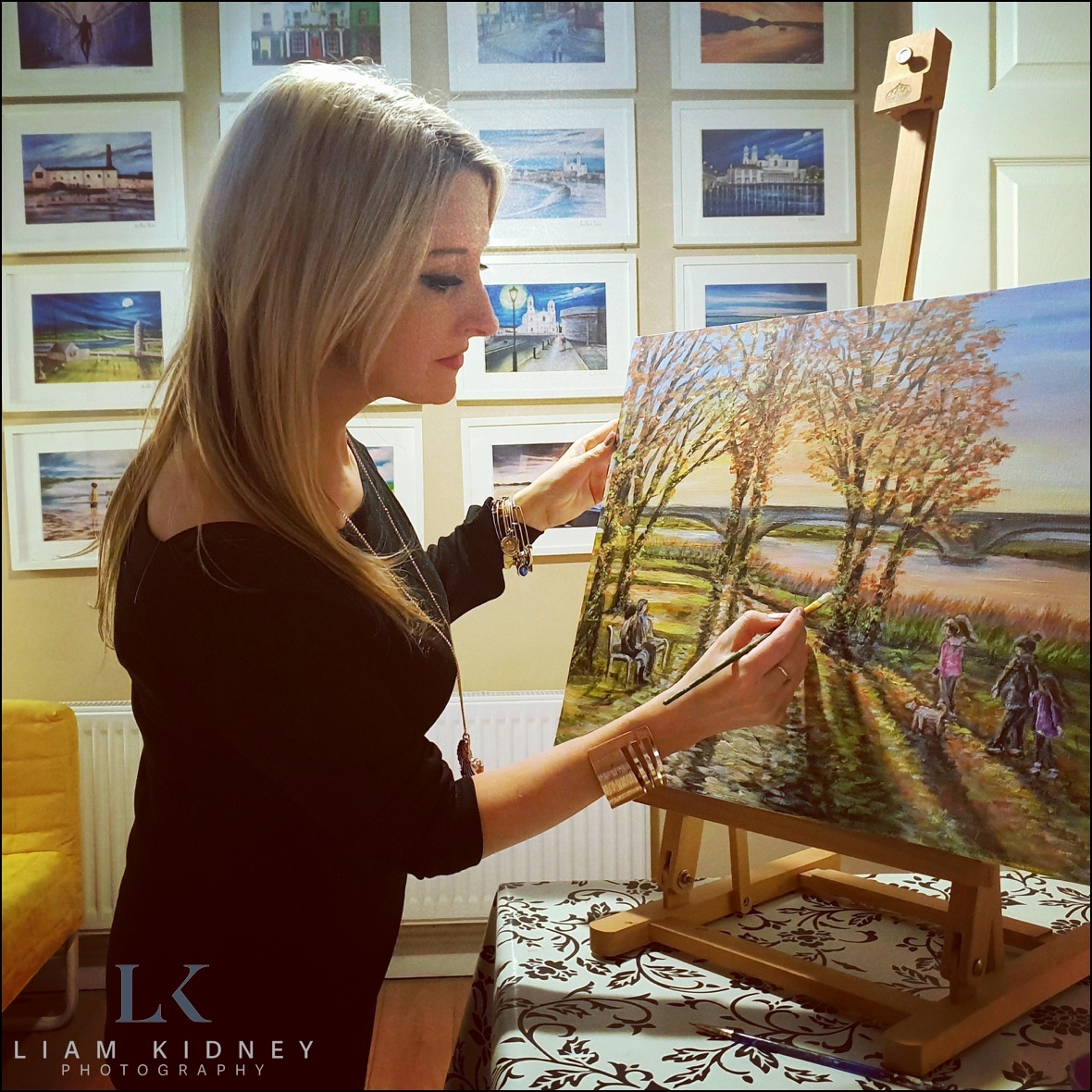 No one does castle weddings like Ireland. Ireland has a huge choice of incredible castles all around the country available for weddings. I covered one such gorgeous wedding at the castle of Athlone a few months back. It was Hazel and Paul who got married like royalty at this majestic castle and gave me the opportunity to photograph their precious and private moments.
Months later, an incredibly talented local artist named Anna Boles created a beautiful painting out of one of my photographs, which happens to be the couple's favorite picture from their wedding. Here they are standing and kissing each other on a part of the castle tower with the Irish flag flying high above. This photograph is one of my favorites too. I am honored that this picture got so much attention and coverage. I am thankful to Anna Boles for turning this lovely photograph into a lovelier painting.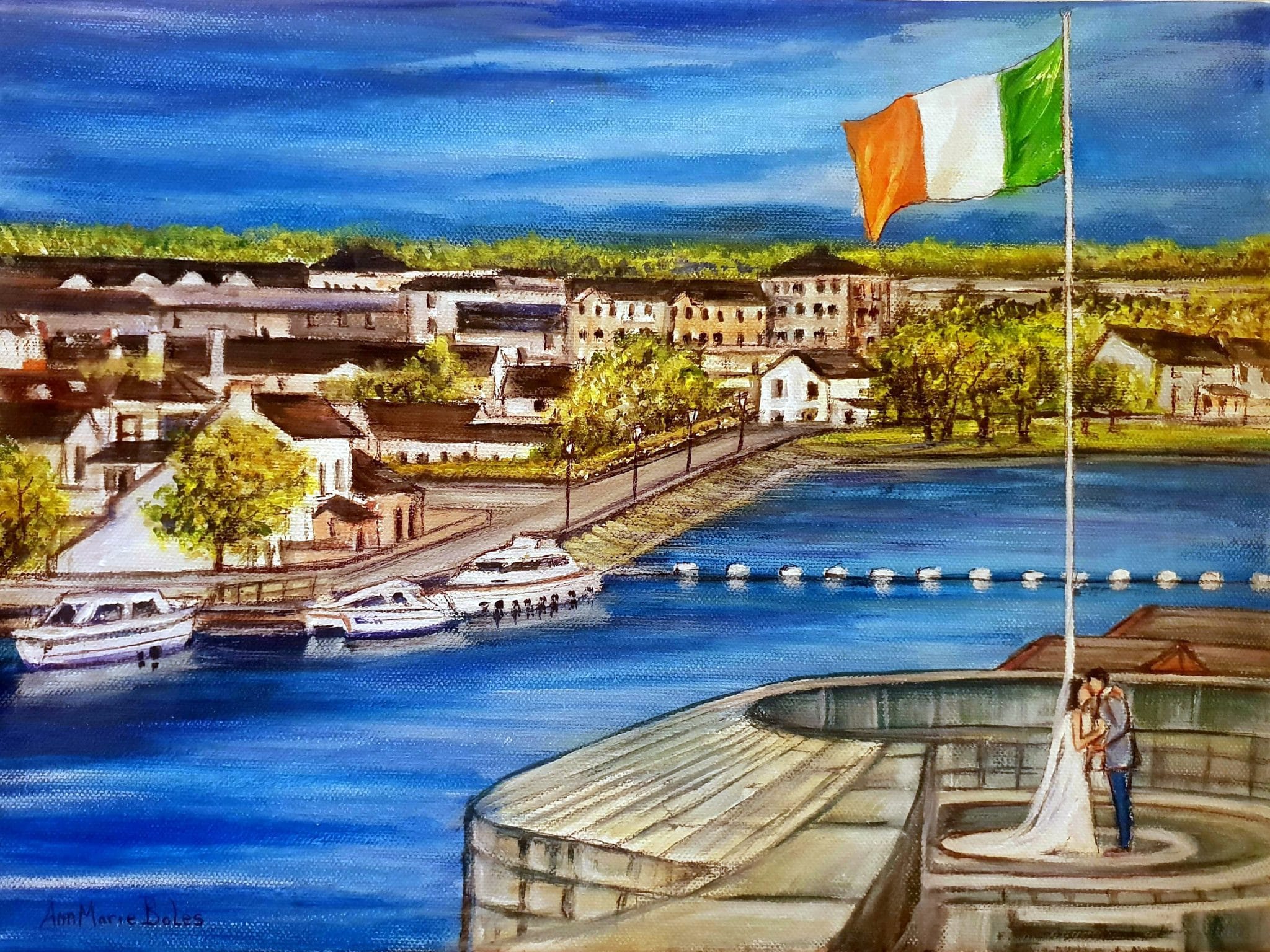 Recently, I got the chance to speak with Anna Boles about her life, her art, and how she came about painting the image for Hazel and Paul.  Here's what she had to say:
Artistic Renderings of Wedding Photos with Anna Boles
Can you tell me about yourself?  How long have you been an artist?  When did you move to the Midlands?   
I have been painting since I was 4 years old. I always had a pencil or paintbrush in my hand and was hugely passionate about it from a very young age. All I ever wanted to be was an artist and this was always my answer to the question 'what do you want to be when you grow up'. I'm blessed to have achieved that wish in my life. I was always recognized as having a unique gift in school when it came to art. I started to get commissions from people at around the age of 15 and it progressed from there. I went on to study Art & Graphic Design. I continued to paint throughout. 
I moved to Athlone from Dublin over 12 years ago with my husband Phillip when our first child Jake was just three weeks old. We went on to have two more children, Katie & Sophie. Athlone is home to me, and I love the beautiful inspiration the town gives me through its beauty and nature. I constantly see beauty in the landscape to paint and I don't think I'll ever get tired or bored of what Athlone has to offer scenery-wise. 
The people of Athlone are really kind to me and have always supported me for my work. I've had several exhibitions here so far. I've also been doing a calendar for the past 3 years. I paint the scenes of Athlone for the calendar. The calendars get posted all over the world to the Athlonian people and their families as a little piece of home away from home. Each year, I give away the money raised from calendar sales to the local charities in Athlone. These charities include South Westmeath Hospice, Pieta house and Barnardo's of Athlone. I'm also a member of Athlone Musical Society since 2015 and have done several shows with them. However, I'm now on the stage for a different reason. I am there these days as a scenic artist painting the set! It was something I always had a huge interest in, so when the opportunity came up to paint the set a few years ago I jumped at the chance. Since then I have been painting the set for the Athlone musicals and pantos. It's great fun and a huge challenge which I love.
What do you like most about your job?
The creative freedom. I love being able to express myself through what I love the most. The challenge of a new commission piece, the fact I can get lost in my own mind and alone in a creative way that gives me calmness and clarity to deal with certain emotions I may be struggling with in my mind. I truly believe painting is my therapy that helps me keep myself balanced. It's a necessity for me and I adore it. The beauty of this is that I get to do this and help my mind, and, at the same time produce something that makes others feel happy. They receive a little bit of magic from my work. That, to me, is priceless and I will forever be grateful for the capability I have to make someone feel positive and happy. I feel blessed to be able to bring back a fond memory for them through my paintings.
Tell me a little about the portrait that you did from Hazel and Paul's wedding?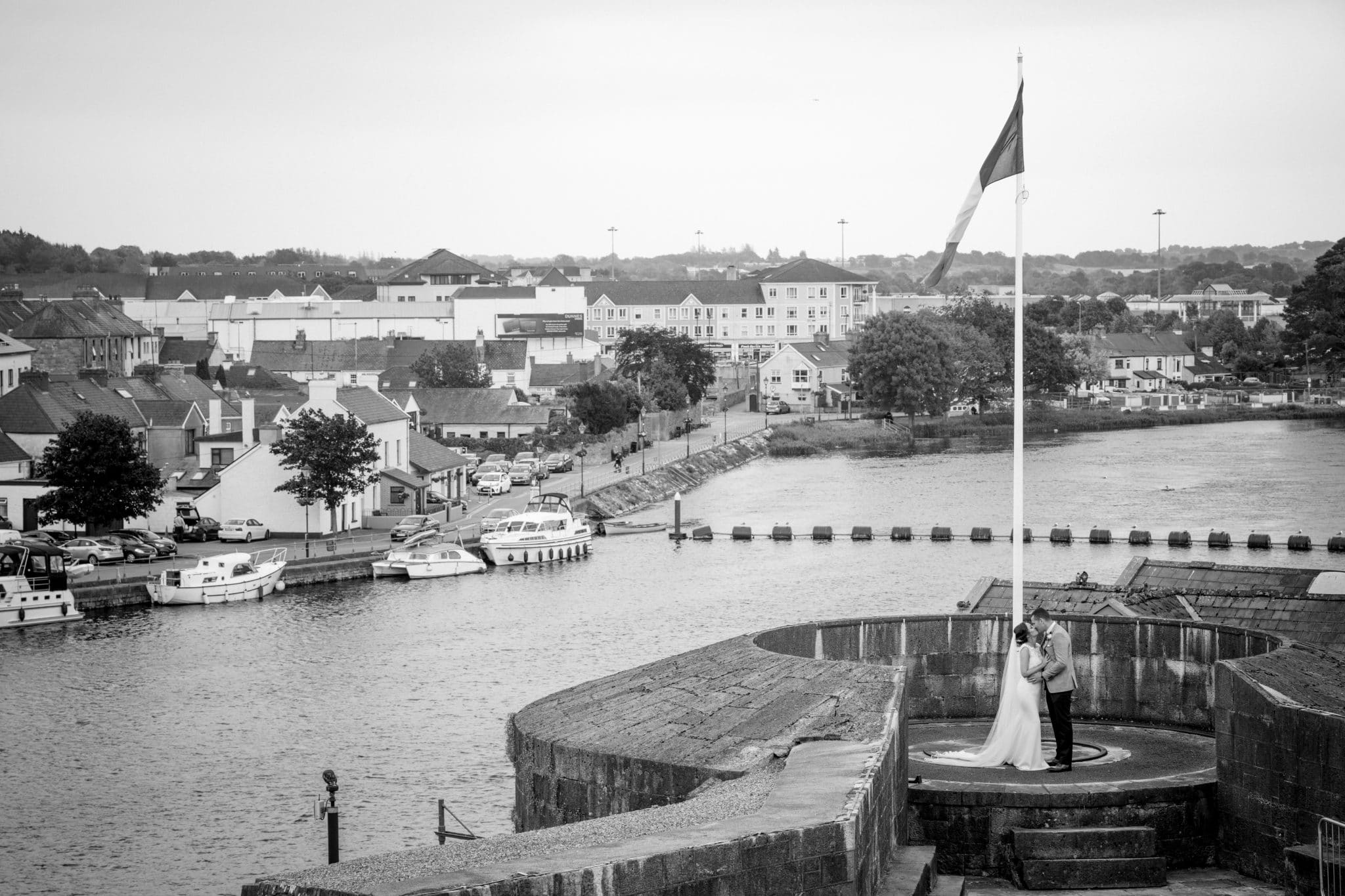 Hazel's mother Maureen got in touch with me, asking if I would paint an image for her of her daughter and her husband on their wedding day. It was a surprise gift for her daughter from Maureen for Christmas. She sent me the beautiful photo taken by Liam Kidney on their wedding day. The photograph depicts a beautiful view of Athlone with the Irish flag flying high above Athlone castle where a newly married couple stand. I was delighted to be asked to work on such a beautiful commission piece. It's great to be a painter, even when you are asked to paint a photograph the way it looks, you still have the creative freedom to enhance the shades and make it look livelier. In this case, I was able to create a blue sky even though in the photo it looked dull. I could also make the Irish flag look a bit more fluent and flowing. That's the magic and beauty of painting and the freedom you get with it. The person tells you a story and my job is to make that story come alive with my paints. Of course, the painting would never have been created, had it not been for the knowledge and skill of a photographer who was able to capture and produce such a beautiful photograph.

Did the couple like the result?
They loved the result! Maureen sent me a beautiful photo on Christmas day with the very happy couple holding their new painting. It was so lovely to see. The painting got a great reaction from the public, in fact, our lovely Mayor here in Athlone, Frankie Keena, presented a framed print of it as a gift to the Indian Ambassador to Ireland, Mr. Sandeep Kumar, on his visit to Athlone on the 6th of March 2020. I'm so proud to be able to represent this beautiful town through my paintings and art. It's a total privilege.
Is this something you have done before or offer future couples going forward?
I've been asked quite a few times to paint couples on their wedding day, so it wasn't my first time to do something like this. In fact, I was also painting another commission at the same time as I painted this piece of another married couple walking across Athlone town bridge hand in hand. Athlone people seem to be very romantic! Lol. I always love receiving these types of commissions.
Any funny stories to share about your business?
…Hummm, I suppose the funniest and most regular thing is, when I'm painting, I nearly end up accidently dipping my brushes into my cup of tea and drinking the paint water… It's a frequent occurrence at this stage! 
I'd like to give a huge thanks to Anna Boles for taking the time to chat with me about her incredible artwork. Can't wait to see the work she puts out next! If you'd like to take a look at more of Anna's work, CLICK HERE!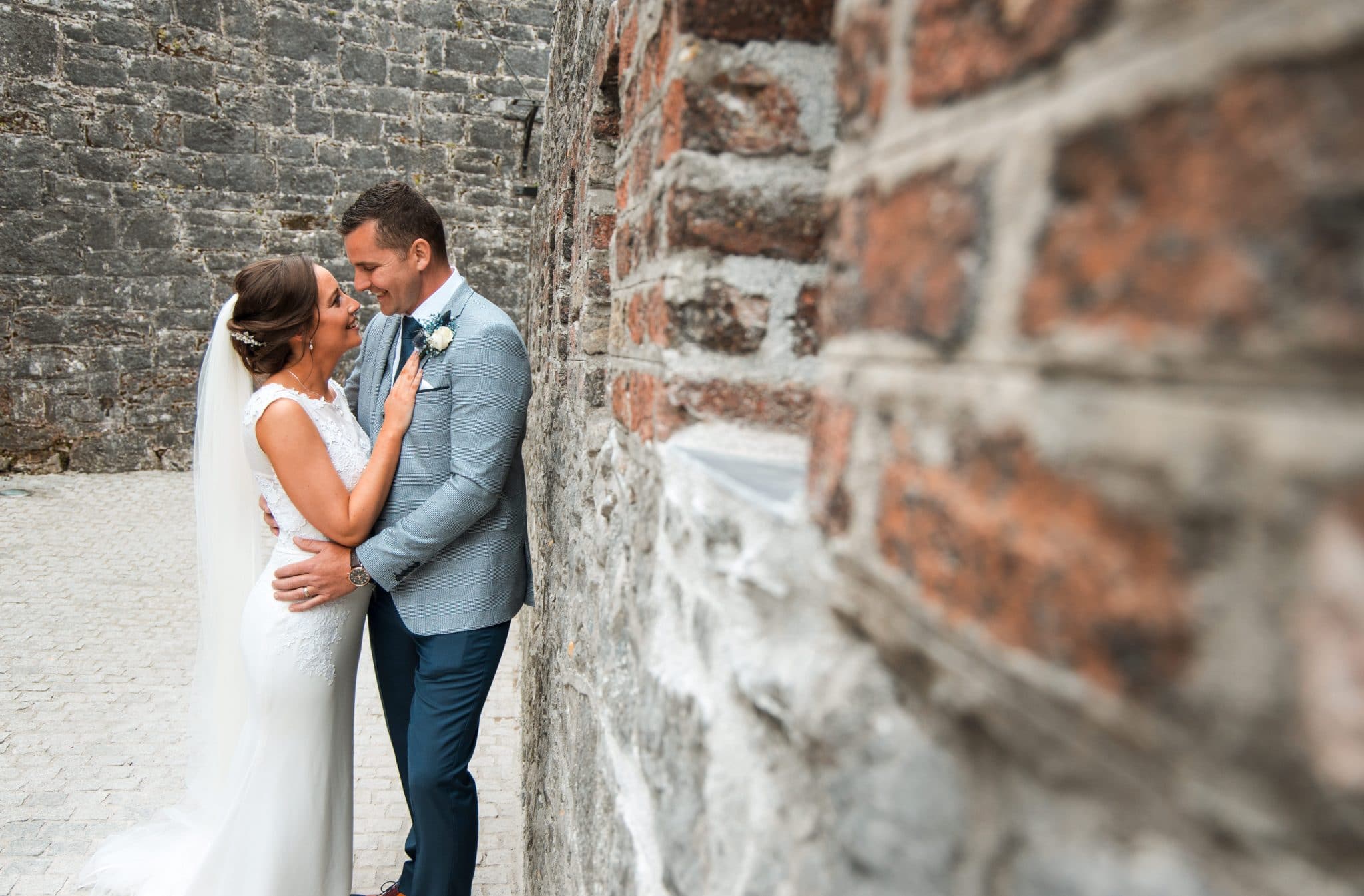 You can view a full slideshow of Hazel's and Paul's wedding below.